DIY Dog Treats time! St Patrick's Day is coming, so we wanted to make some DIY St. Patrick's Day Dog Treats!  We decided to do something a little different and we made Pot of Gold Dog treats from the end of the rainbow!  I think they turned out pretty cute!
DIY St Patrick's Day Dog Treats


 Ingredients
1 cup brown rice flour
1/4 cup coconut flour
2/3 cup Plain Yogurt
1 Egg
1 Tsp Turmeric (optional for color)
1 container of Gold Peral Dust (Optional)
A small Pot (for your Gold!)
Directions
Preheat your oven to 350 degrees Fahrenheit. In a large bowl mix together yogurt, egg, and turmeric.  The turmeric is optional and we are using it to give the cookies a yellowish color to look more like coins.  Add the flours to the wet mixture and use your hands to create the dough.  The dough will have a play-doh like consistency when ready.
Now we need to shape our coins.  There are many different ways to do this.  You can roll the dough into small balls, flatten them between your palms and then round out the edges.  You can use a cookie cutter and roll out the dough and then cut it.  I actually found a chocolate mold that I pressed the dough into then popped it out to get my coin shapes.  The goal is to have your cookies look like gold coins.
Once you have your coin shaped cookies all laid out on a cookie sheet, you can pop them in the oven for 15 – 20 minutes.  If you want your cookies to be very crunchy, after they are done cooking, turn the oven off and leave them inside for  another hour or two.  After your cookies have cooled completely you have two options.  You can leave them as is and place them in your pot to create your Pot of Gold Treats, or you can decorate them a bit more, which is what we did.
I used Wilton's edible Pearl Dust  on top of my cookies. I simply put a bit of water on the top of each and painted the dust on to the cookies.  This gave them just a hint of a gold sheen.  If you didn't use the turmeric in your cookies, this will help give it a bit of added color.
Taste test time
Now it's time for the dogs to taste and enjoy these Pot of Gold Dog cookies!  We hope they like them as much as ours did!
Don't forget to share this with your friends so they can make it with their dogs! Let us know in the comments what type of treat you want us to try making next time! Happy St. Patrick's Day everyone!
Here are the links to some of the things we used in the video.
Watch more treat videos here!
* Please note that I'm neither a vet nor an animal nutritionist, so it's advisable to consult with your own authority when trying new foods, and also to ensure that your dog's home cooked diet is balanced & includes all of the nutrients that are necessary for your dog's health. As with ALL treats, feed in moderation, and don't feed anything to your dogs that you don't feel comfortable feeding them.  These are treats, not meal replacements.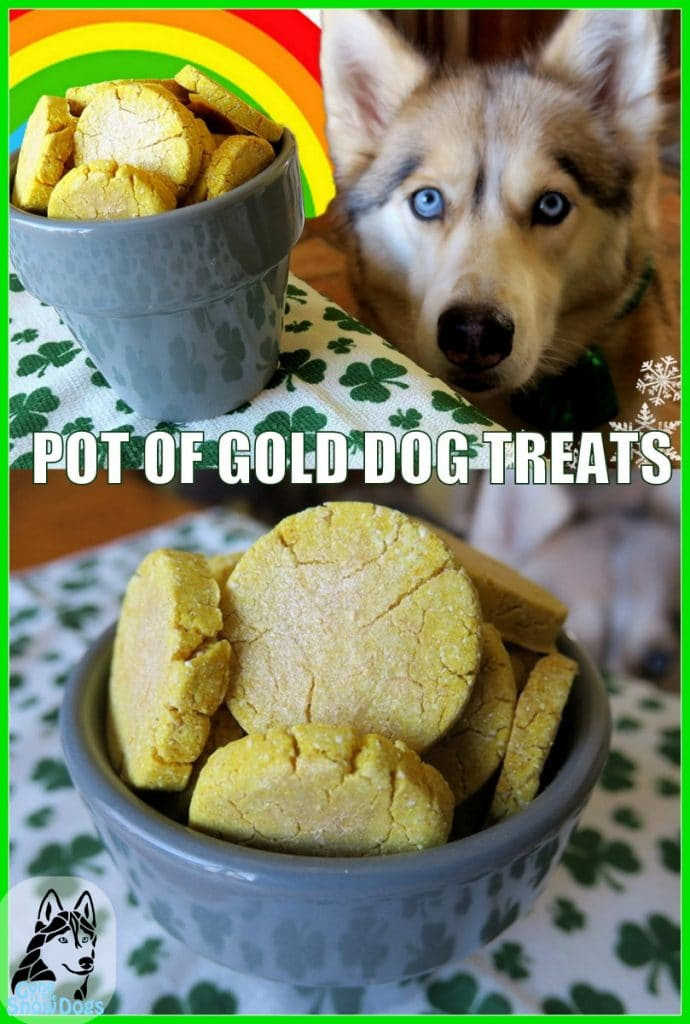 Become an Insider
Thanks for subscribing!
Oops! Something went wrong.